Specifications: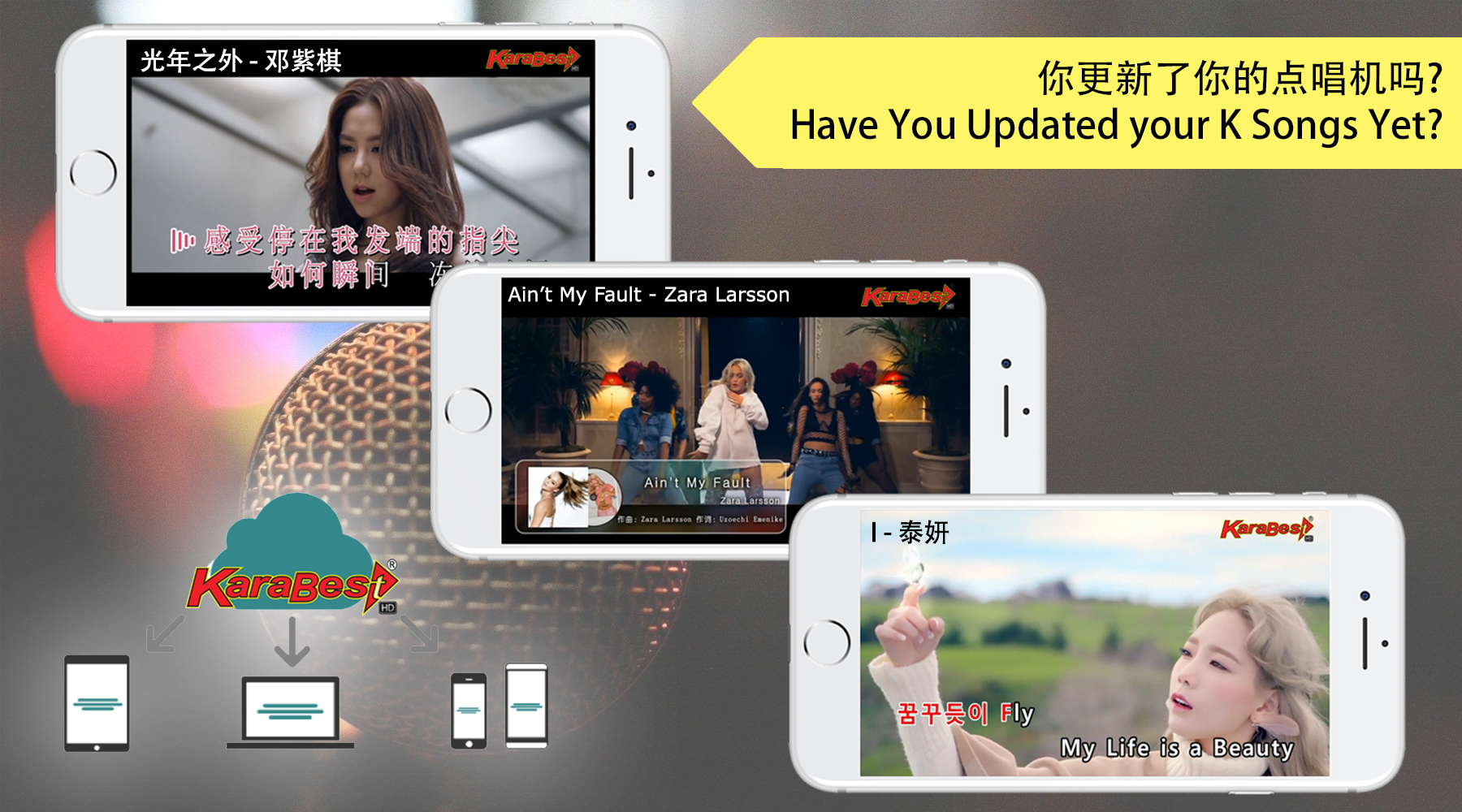 KB CLOUD allow you to download all your favourite karaoke music videos via your smart device, any where and any time!
No need to sit in front of your home karaoke players and wait for the download. All of our KaraBest karaoke music videos are in HD, no encryption or compression it is suitable for all the Karaoke HDD players in the town! Now, you can update the new released music videos and songs to your home karaoke system with a simple step! What are you waiting for? Contact us for more details! We are ready to serve you!
現在不需要坐在你的卡拉OK點唱機前等待下載歌曲, 有了KB CLOUD 隨時隨地在任何地點任何地方都能通過智能手機或平板電腦下載最新K歌, 同時也能現場播放你心愛的K哥, KB CLOUD 歌曲沒有通過加密和壓縮, 全高清畫質及原唱者, 適合市面上的任何一款卡拉OK點唱機新歌加入!
Worry about songs update in future? No worries, we have karaoke KB Cloud for that. KB Cloud is a songs update software/system, and is a free of charge service to our customer to download and update new songs every month.
拥有KB CLOUD APP,更新新的ktv不会再是一个烦恼,因为我们会不断在每个月更新曲目,免费让顾客们进行下载,更能够跟上潮流!
99% of the market karaoke service provider is using China server, however, they are facing huge problem due to China server songs download speed and lack of songs selection. A single song download from China server sometime can take up to few hours to a day to complete. Furthermore, customer will need to purchase touch screen to download songs from China, if not, they will need to bring back their jukebox to karaoke service provider to update their songs library with charges from RM400 – RM2000 (depending of how long the song library need to be updated). Also, China server sometime can lack of local songs library, and limited selection of songs especially in Malay/English language.
再者,市场上99%卡拉OK供应商都是使用着中国的服务器,这会导致购买者在下载新歌的数度变得非常缓慢,歌曲的数目也是相当的少。而且,供应商所收费也是相当昂贵,每次更新歌库的费用大致上介于RM400 – RM2000。
This is the reason why KaraBest realized the problems of our customer facing thus invested and built our own songs server in Malaysia which give customer complete new songs library and faster download speed. Customers whom using KaraBest Karaoke System can enjoy this service free of charge, fast download speed and complete new songs with local songs, Chinese, English and Malay songs. Customers whom already purchased system from other brand but want to use our KB Cloud service will need to pay for that. Regardless customer with/without touch screen, they can download and browse new songs from their mobile app and PC. Download by full album or by single song is totally up to customer choice.
因此,Karabest KB CLOUD推出了更有效率的服务器,就建设在本地马来西亚,让顾客们享受更畅快和完整的歌库。凡购买Karabest卡拉OK配套的顾客都能免费使用此服务,以后就能从琳琅满目的歌库里下载自己最喜爱的KTV。
Benefits of Karabest <KB Cloud>:
Download HD KTV songs, and add them to your current karaoke player.
KTV download through smartphone, laptop or tablet.
KTV songs update every month.
Contain various language of songs, tv shows or programs and movieOST.
Powerful search engine.
Watch KTV songs offline after downloaded on your smart devices.
Karabest <KB Cloud> Apps的好处:
 提供市面上唯一使用 Smartphone 下载K歌,让你随时随地都能下载你最喜爱的K歌。
 KARABEST 点唱机拥有超过50,000首歌任你选择。
 支持高清荧幕,中,港,台,欧,韩,日,马来,等,中国好声音,梦想的声音, 周杰伦,邓紫棋,流行TVB电视剧主题曲,电影主题曲,等等…
 PPM (Public Performance Music Malaysia) 音乐版权执照持有者