KARABEST Power Of Kara Package Included:
1. Karabest KB-99 Pro Series Karaoke Amplifier (1 unit)
2. Karabest KB-999 10″ woofer 600w Karaoke Speaker (1 pair)
3. Karabest KOD-8 HD karaoke jukebox with 4TB ~ 50k songs (1 unit)
4. Karabest KB CLOUD
5. BIK from Japan wire color mini microphone (4 pc)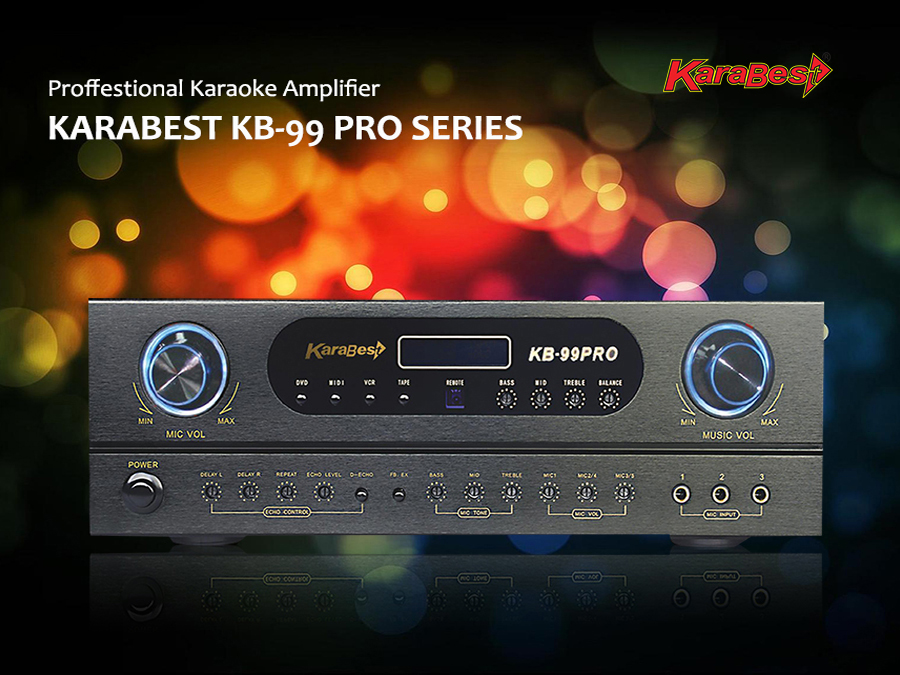 KARABEST KB-99 PRO SERIES APLIFIER
Model: KB-99 PRO
Power Output (8ohm): 350w x 2
Power Output (4ohm): 450w x 2
MIC Frequency Range: 20Hz x 18KHz
Music Frequency Range: 20Hz x 20KHz
THD: <0.02%S/N Ratio: 85dB
Output Circuit: Class AB
Audio Input: 4
GroupDimentions (mm): 482 x 150 x 400
Net Weight (Kg): 15.1Kg
KARABEST KB-999 PRO SERIES SPEAKER
Model: KB-999 PRO
Speaker System: 3 Way Low (10″x1) / Mid (3″x2) / Hi (3″x2)
Frequency Range: 48Hz-20KHz
Impedance: 4ohm
Rated Power: 180w
Peak Power: 600w
Sensitivity: 92dB
Maximum Sound Pressure: 113dB
Dimensions: 500 x 300 x 302mm
Net Weight: 12.7Kg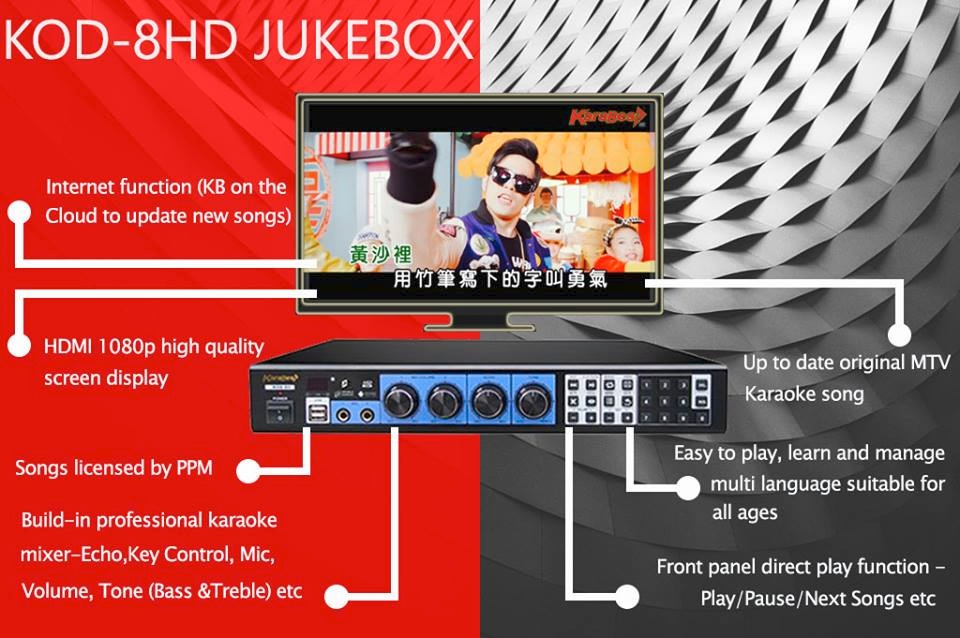 B-KOD 8HD More Exclusive Features:
*Support Download and Update latest song for KB Cloud.
*Support Android Tablet / Apple iPAD iOS and 19″ wired touch screen.
*Supports Dual 4TB SATA hard drive at the same time, maximum up to 8TB.
*Picture in Picture display: you can preview the ordered song 's video on VGA screen at the same time while you are
operating the menu.
*Build-in professional karaoke mixer let you can plug to TV, Existing AV amplifier & sing directly with full functions of
karaoke such as Echo Mode, Key Control, Mic volume, Music Volume, Tone(Bass &Treble) etc.*HDMI high Definition
audio and video screen dispaly HD1920 X 1080, DVD 720 X 576 *The only KOD JukeBox player in the market, front
panel with direct play control panel feature*Convenience for you to play & select songs direct without remote or
touchscreen Play/Pause/Next SongsVocal SelectMute/Repeat/Menu/BackVolume & Key Control.All Can control via
front panel.
KB CLOUD allow you to download all your favourite karaoke music
videos via your smart device, any where and any time!
No need to sit in front of your home karaoke players and wait for the download. All of our KaraBest karaoke music videos are in HD, no encryption
or compression it is suitable for all the Karaoke HDD players in the town! Now, you can update the new released music videos and songs to your
home karaoke system with a simple step! What are you waiting for? Contact us for more details! We are ready to serve you!
現在不需要坐在你的卡拉OK點唱機前等待下載歌曲, 有了KB CLOUD 隨時隨地在任何地點任何地方都能通過智能手機或平板電腦下載最新K歌,
同時也能現場播放你心愛的K哥, KB CLOUD 歌曲沒有通過加密和壓縮, 全高清畫質及原唱者, 適合市面上的任何一款卡拉OK點唱機新歌加入!
Specifications
Type : Dynamic Microphone
Directivity : Unidirectional
Frequency Response : 50-16,000Hz
Sensitivity : -53.6dB(2.2mv)
Weight : 0.3Kg
Nominal impedense : 600 ohm