Karabest Color of Kara Package
Price: RM 8,899
Brand: KaraBest
Availability: In Stock

Package include:
- KaraBest KB-899 Designer Karaoke Speaker x 1 pair
- KaraBest KB-99Pro Series 350 Watt Karaoke Amplifier x 1 unit
- KaraBest KB 2-in-1 AI Karaoke Jukebox x 1 unit
- KaraBest KB-8.0 High Performance Wire Microphone x 1 pair
- KaraBest KB CLOUD (Free for Life Time)

WhatsApp us to know more!

Karabest Color of Kara Package - Premium
Price: RM 10,898
Brand: KaraBest
Availability: In Stock

Package include:
- KaraBest KB-899 Designer Karaoke Speaker x 1 pair
- KaraBest KB-99Pro Series 350 Watt Karaoke Amplifier x 1 unit
- KaraBest KB KOD8K Professional Karaoke Jukebox x 1 unit
- KB-21.5 Touchscreen x 1 unit
- KaraBest KB-8.0 High Performance Wire Microphone x 1 pair
- KaraBest KB CLOUD (Free for Life Time)

WhatsApp us to know more!
KB-899 High Power Karaoke Designer Speaker
- Brand Name: KaraBest

-

Model Number: KB-899


-

Product Name: Designer Speaker


-

Peak Power (W): 800


-

System: 3 Way


-

Range: 3-Way Full Range


-

Mounting Way: Hanging


-

Enclosure Material: High Density Fiber Wood


-

Woofer : 10" Woofer


-

Tweeter: 5" Horn Tweeter


-

Net Weight (kg): 15.1


-

Dimension (mm): 510 x 310 x 280
An 800W, professionally designed 3-Way 3 Speaker, KB - 899 DESIGNER SPEAKERS provides the ultimate sounding experience with its attractivity & durability. Inclusive with a horn tweeter, a professional high pitch producer, our best seller product provides a well-balanced, top-notch professional-quality sound, producing a strong, thrilling, & exquisite sound experience for all.

Available in FOUR colors to match your creativity to level up the overall view.

音响备有多种颜色供你选择 完美地搭配你豪华的家里内饰设计.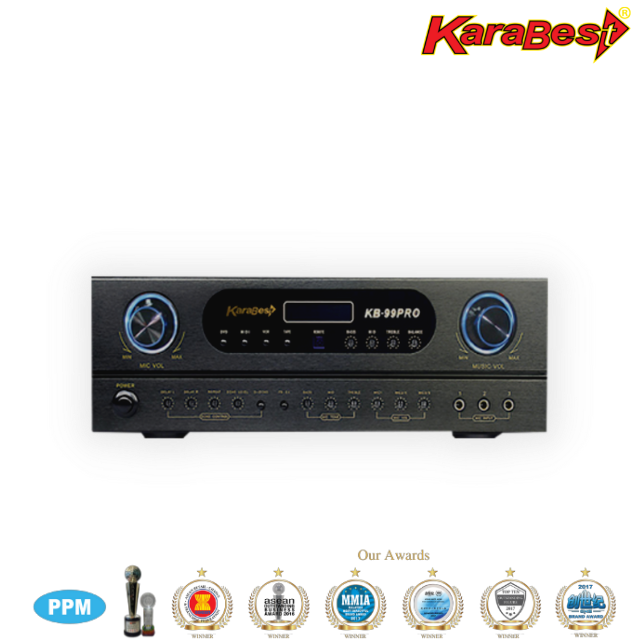 KARABEST KB-99 PRO SERIES AMPLIFIER
Model: KB-99 PRO

- Power Output 8 Ω (W): 350 x 2

-

Power Output 4 Ω (W): 450 x 2


-

MIC Frequency Range (kHz): 0.02 x 18


-

Music Frequency Range (kHz): 0.02 x 20


-

THD (%): <0.02


-

S/N Ratio (dB): 85


-

Output Circuit: Class AB


-

Audio Input: 4


-

Group Dimensions (mm): 482 x 150 x 400


-

Net Weight (kg): 15.1
KOD-8K is a karaoke jukebox integrates dual screen & single screen interface display, supports dual hard drives, built-in DSP effects, HDMI vocals output without delay. Songs can be ordered by the panel button, remote control, touch screen & mobile APP.
Functions:
4K decoding & output, HDMI vocals output without delay.
Built-in DSP effects, directly plugged into the microphone & adjust tune.
Built-in WI-FI, global high-speed download songs. An external antenna makes WI-FI transmission more stable.
Youtube online play video.
Android & Linux dual system, users can add some apps they need up to the player.
Support load two hard drives in the meanwhile. Large capacity song library.
Support HDD & SSD (optional option).
Built-in local movie mode, users can import movies to watch.
Simply batch add up/delete songs. (Supported format: jlv, avi, mkv(h.264/h.265), mpg, mpeg, dat, ts, asf, wmv, wmp, wm, mp4, 3gp, 3gpp, 3gp2, flv, vob, mov, rm, rmvb, mpe, mp3, wav, aac, wma, ogg, mp2, mpa, m4a, ape, flac etc)
Support USB play videos, photos & music.

KB CLOUD allows you to download all your favorite karaoke music videos via your smart device, anywhere & any time!

No need to sit in front of your home karaoke players & wait for the download.

All of our KaraBest karaoke music videos are in HD, with no encryption/ compression it is suitable for all the Karaoke HDD players in the town!

Now, you can update the newly released music videos & songs to your home karaoke system with a simple step!

現在不需要坐在你的卡拉OK點唱機前等待下載歌曲, 有了KB CLOUD 隨時隨地在任何地點任何地方都能通過智能手機或平板電腦下載最新K歌!

同時也能現場播放你心愛的K歌, KB CLOUD 歌曲沒有通過壓縮, 全高清畫質及原唱者, 適合市面上的任何一款卡拉OK點唱機新歌加入!
STAY UPDATED
Get exclusive news, stories, and updates
Have questions in mind? Reach us here!